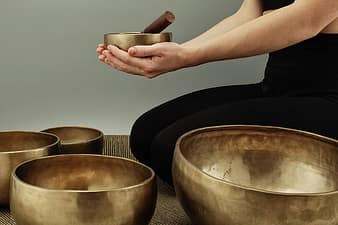 Sound baths melt away stress, welcome relaxation
Diamond Mountain Retreat Center, 3 years ago
0
1 min

read
1112
Vibrational sound therapy calls on the soothing and cleansing sounds of Himalayan singing bowls to relax and nourish the soul. Immerse your senses in the relaxation of sound baths.
Sound baths, or vibrational sound therapy, have healed worried souls for centuries.  Your ears drink in the soothing vibrations emanating from Himalayan singing bowls.  Then, the vibrational sound therapy works its way through to the brain to quiet your mind and concerns.  The brain's response is one of relaxation as your stressors are melted away.  In this state, your body is able to truly relax…
Vibrational sound therapy heals more than just the mind and soul — but the body as well.  Sound baths peacefully sooth and stimulate the nervous system, allowing you to relieve yourself of stress, worry and concern.  Muscle tension always begins to dissipate, as circulation and flow throughout the body increase.  This ebb and flow promote a rich relaxation, thanks to a much-needed pause your body's rhythm enters.
More than just music or sound alone — sound baths heal. 
Related posts